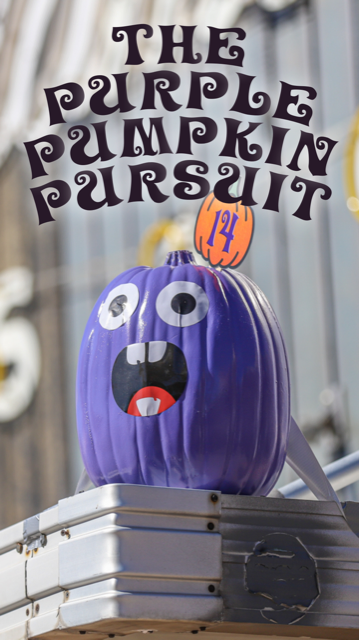 THE PURPLE
PUMPKIN PURSUIT
SATURDAY: 10AM – 5PM
SUNDAY: 10AM – 4PM
This scavenger hunt will take your family on a journey throughout Victorian Square and everything PumpkinPalooza! The more purple pumpkins you find, the bigger the prize you'll win. Will you be able to find them all?
HOW TO PLAY
Keep your eyes open! Purple pumpkins will be hidden throughout the event – in vendor booths, on buildings, and even in historic spots throughout Victorian Square. Each pumpkin will have a numbered flag on it. Players will purchase a card to play at the Purple Pumpkin Booth. The card has pictures of pumpkin faces on them. Your goal is put the correct number under each pumpkin. Once you've found them all, or as many as you can, return your completed card back to the Purple Pumpkin Booth to claim your prize!
IMPORTANT!
You DO NOT have to touch anything or move anything around. The purple pumpkins will be hidden in plain sight. They will be hidden only within the event area. DO NOT TOUCH OR TAKE the pumpkins. All you need to do is match the right number with each pumpkin.
Purchase a Trick & Treat Tour for the all-inclusive PumpkinPalooza experience! The Trick & Treat Tour includes:
A Midway Magic Pass - good for 20 Midway Games
The Purple Pumpkin Pursuit
A Pumpkin to Decorate at the Pumpkin Design Studio
Trick & Treat Bag
Chance to Win the Great Pumpkin Raffle
VICTORIAN SQUARE
October 22-23, 2022
Experience the magic of Halloween with games, prizes, contests, costumes, and more at the largest fall festival in Nevada! PumpkinPalooza is two full days of good old-fashioned family fun in Victorian Square. The events is free to attend and features the PumpkinPalooza Midway, a jack-o-lantern wall, the Pumpkin Design Studio, carving classes, the Purple Pumpkin Pursuit, costume photo ops for people and pets, Nevada's only Pumpkin Derby, vendor trick or treating, food trucks, kid-friendly live entertainment, and so much more! Come celebrate spooky season this October 22-23 at PumpkinPalooza!
SPONSORS & VENDOR INFORMATION